The Use Of Infrared In Detecting Roof Leaks
The roof plays a pivotal role in protecting your home and the contents located inside. The smallest of leaks can cause considerable damage and issues like mould, rotting, destroyed insulation, structural damage and damaged ceilings. It's every homeowner's nightmare to see water leaking through the ceiling, it is extremely difficult to figure out where exactly the root of the leak lies. The spot where you see water and stains may be some distance from the actual problem. Water can travel above your ceiling for several feet making the leak spot undetectable to the naked eye.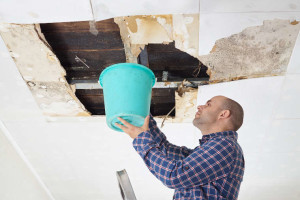 There are a number of signs to look out for which can indicate you have a roof leak:- Water pooling on the floor or running down the walls, damp spots visible in the ceiling and stains and dark marks in the attic. Roof leak detection experts use many different tools to find and solve roof leaks. One of these tools the use of infrared technology. Infrared technology aka thermal imaging allows people to look through the surface of the roof in order to see potential leak sources and issues within the roof. Infrared equipment measures the heat being emitted the roof, the patterns being emitted are measured and captured by infrared cameras which form the data being collected into images. These images can then be analysed by an expert to see what area or areas need to be looked at.
Thermal imaging is an extremely cost-effective technique for evaluating your roof system. A thermal Imaging survey can also be done even if you don't suspect a leak coming from your roof, you can get it done as a precautionary method. This will determine if there are any problems that could cause problems in the future hiding beneath the surface of your roof preventing you future damage and ultimately saving you money in the long run.
If you have water stains or leaks extending across the ceiling or running down the walls, you more than likely have a roof leak. If this is the case, you should get it fixed quickly. Utilising infrared technology to locate the full extent of a roof leak will assist in resolving it effectively. To learn more about roof leak detection, visit us online today or call us on 021 4866133.